Subscribe to the D'Amelio Network Blog and get your free copy of our ebook.
Discover the Dos and Don'ts of Booking Event Speakers.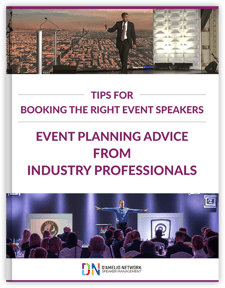 The success of your speakers is determined during the selection process. Once made, it's hard to correct a poor decision. Learn how top event professionals make the choice.
Booking a speaker for your big event can be an anxiety-inducing process. After all, so much falls on you to ensure the speaker is reliable, competent, and has a message that will resonate with your audience.
To help event planners navigate through this complex process, we asked the top meeting planners from all over the world to provide their best advice on booking speakers, and compiled all of their key insights into this ebook.
By downloading this guide, you'll receive lessons learned over decades of event planning experience from 18 seasoned professionals in the industry. Follow their expert insight to find, book, and prep the perfect speaker that will make an impact on your audience.
Included in this ebook:
How to find the perfect speaker for your audience
Common mistakes to avoid in the booking process
Tips to help you get the most out of the speakers you hire
How to drive home the speaker's message after the event
Fill out the form on this page to subscribe to the D'Amelio Network Blog and gain instant access to the ebook. Discover how to achieve success with speakers and make your event something to remember.