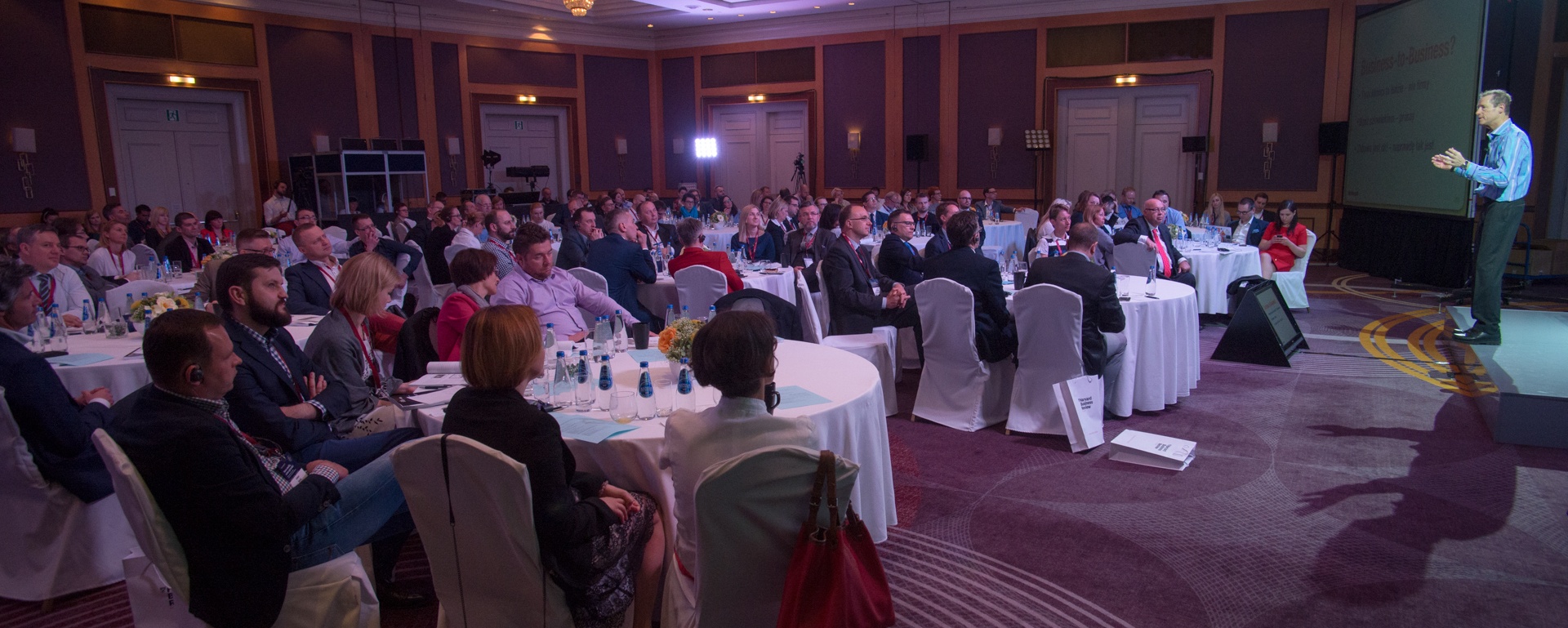 YOUR EVENT PLANNING CHECKLIST:
DOES YOUR ROOM SET-UP HELP SPEAKERS SUCCEED?
The purpose of this series is to provide valuable tips for your event planner checklist. When it comes to booking event speakers, almost nothing is as important to making the investment pay off as the nature of the venue and how it's configured.
Any event planner checklist should include a few key elements relating to the room and how well it enhances or interferes with the presentations of the speakers you've hired.
Most veteran speakers are road warriors who have spoken in virtually every kind of venue over their careers. More than anyone, they know what environment will help them best engage the audience to assure a successful outcome. One thing I know for certain when booking event speakers; the goal of the speaker and the event planner is the same – to make certain the audience has the best possible experience. Whether you book motivational speakers, experts from academia, or former world leaders, incorporating these insights into your event planner checklist is a wise move.
As with so many things in life, success with booking event speakers begins with tending to the fundamentals; in this case, we're talking about the venue. Event spaces come in so many varieties: indoor, outdoor, large and small, good and bad acoustics, odd dimensions, etc. More often than not, the room you're working with will be less than perfect. This little essay is intended to be a fun way to help you add to your event planner checklist.
I asked a group of top speakers to tell you – in their own words – about some of the situations they've encountered while on the road – as well as some of their best advice on how to stay out of the soup. What they have to offer might make you laugh and might make you cringe but it should help you create the optimal setting for your speakers to deliver effective presentations. Hopefully these comments will spur an idea or two for your event planner checklist. By understanding what's on the minds of the experts who have spoken at hundreds of events, you'll be able to create an environment where they have the best possible chance of really engaging your audience.

CONTRIBUTORS (l-r): Gary Bradt, Bill Herz, Erik Wahl, Susan Cain, Geoff Colvin, Tony D'Amelio, Tom Morris, Ben Stein
THE SPEAKERS WEIGH IN
DISASTER AT SEA
"Probably the worst was a talk I gave on one of those dinner cruise ships. This was a fairly small group, maybe 30 or 40, and the ship's dining room was barely big enough to hold them. When I checked it out before the cruise departed, the air conditioning was so loud that I knew I couldn't be heard -- there was no sound system -- so I asked that they shut off the AC when I started my talk. When the time actually came, however, the ship was underway and the engines were MUCH louder than the air conditioning. When the staff obediently shut off the AC at the beginning of my talk, it didn't make a bit of difference to the noise level, but it did cause the crowded dining room to become very hot. I tried to yell my remarks over the sound of the engines, but I doubt if more than half the audience could hear anything. Perhaps the one saving grace was that by that time pretty much everybody, except me, was drunk."
– Geoff Colvin, Fortune magazine, Author, Talent is Overrated
ODD-SIZE ROOMS NEED EXTRA SOUND REINFORCEMENT TO COMPENSATE
"One time I was invited to speak and receive an award from a university during a reunion. The room was laid out in the shape of a long skinny rectangle, and the acoustics were terrible — so the only people who could hear me were the people at the top of the rectangle. The rest, I imagine, carried on happily reuniting with their former classmates — what else could they have done?"
– Susan Cain, Author, Quiet: The Power of Introverts in a World That Can't Stop Talking
FEAR THE BIG ROOM HALF-FULL
"1,000 people can generate great energy, unless they're spread out in an NFL football stadium or an arena. I had that experience once. The stage was on the 50-yard line - mid-field and a LONG way from the audience. A great sound system was in place but it was a strange vibe overall in an otherwise empty stadium.
"If you want to meet somewhere like that, fine; give people a tour but then cluster them in a place that can sort of make sense, like behind where the team would sit during the game, and have the speaker up close, not far away and high in the sky. Whenever the room is much bigger than the size of the crowd, rope off the seating area and have the ushers send people forward. It enhances the crowd energy tremendously and makes for a much more successful audience experience."
–Tom Morris, Noted Philosopher and author, If Aristotle Ran General Motors
PLAYING WITH THE BAND
"There are so many stories I could tell you, but the one that stands out is an event in Florida where the client had scheduled me to speak at one end of the room and an electric jazz band at the other end of the room . . . at the very same time! I had to shout to barely be heard . . . it was awful. Eventually, I marched down to the other end of the room and gave each member of the band $100 to stop playing for 45 minutes . . . the client was a BIG bank and to give them their due, they were so grateful to me they have booked me repeatedly since."
– Ben Stein, Writer, Actor, and Commentator on Political & Economic Issues
SKIP THE DISCO MIRROR BALLS
"I once spoke on the dance floor of a NYC disco with the ball over me spinning and flashing. Not my idea. You could tell the audience found it very distracting. I didn't have my white three piece suit available. People had been drinking heavily and were crowded on the floor around me -- shorter ones straining to see, and hanging over a balcony above me. Not ideal."
– Tom Morris, Noted Philosopher and Author, If Aristotle Ran General Motors
I LOVE THE GREAT OUTDOORS, BUT . . .
"Unless absolutely unavoidable, don't have your speaker outside. It's a no-win situation as you're fighting a million other elements that are fighting for your guests' attention. The sound, visuals, etc. can never be very good in that setting. Recently I spoke at a dinner which was outside, at a pool, next to the ocean. I was fighting the sound of the waves, the wind, planes flying overhead, etc. To top it off, the planner put the stage on one side of the pool and the tables on the other. The audience totally missed out on the fun they could have had."
– Bill Herz, Magician & Comedian
EVENT PLANNER CHECKLIST PRIORITY: ELIMINATE "THE GULF"
"Ask comedians, entertainers, and motivational speakers about the biggest challenge to connecting with an audience and they'll tell you it's "the gulf" – the distance from the front of the stage to the first row of seats. The greater the distance, the harder it is to connect, and the lower the energy. It's no different with speakers. Many of the stories here make that point. Whenever feasible, have your audience seated as close to the action as possible. The energy will start up front and ripple through the room. It can literally change the outcome of the presentations and should be a critical goal on any event planner checklist."
– Tony D'Amelio, Principal, D'Amelio Network
AUDIENCE SEATING MATTERS
"I could walk you through a dozen amusing stories about microphones going out, backstage banter, or air conditioning challenges. However, there is one element that is often overlooked that can have the single greatest impact on the overall effectiveness every presentation during a corporate conference.
"I have performed thousands of shows in every style of audience configuration imaginable theatre, rounds, classroom, bean bags, couches . . . but l have also found (and any musician, comedian or speaker will tell you) that seating layout is essential to unifying a crowd and creating an epic audience experience.
"Here's the catch . . . there's always a catch: meeting rooms are often designed to multi-task: 1) feed attendees and 2) feature the event's speakers. When the room is set in rounds, 70% of the room is filled with large cumbersome wood circles breaking apart the audience experience. It separates the dynamics of how connected the audience is to the presenter. Even if the audience is seated in half rounds, so that no one's back is turned to the stage, there is still a natural cavern of dead air that is created from spacing attendees so far apart. Whether it is a paid outside speaker, company president or industry executive – the organic connection to the audience is higher when the audience is connected shoulder to shoulder. It just is. This small (big!) adjustment can create the single greatest positive impact on the effectiveness of every speaker on the program.
"When an audience is seated theatre style with very few open seats the show naturally elevates to higher levels of audience connectivity, interaction and participation. We have worked extensively with Cirque Du Soleil on enhancing visual elements of our show - from positioning of screens, to use of i-mag, to sound, to lighting . . . but no one thing has more impact on the effectiveness of the performance than the configuration of the audience. It feels more like attending a live theatrical performance. Victories are more exhilarating, stories or more engaging, jokes are funnier, energy is exchanged that tugs at the very thread of our being when we are connected. That same energy fades if the audience is disconnected."
– Erik Wahl, Artist and Author, UnThink
IF THE SETTING IS UNUSUAL, MAKE SURE THE SPEAKER KNOWS IN ADVANCE
"I once gave a talk on an airplane to 11 company presidents. It was important to know that venue ahead of time so we could have a white board and flip charts when PowerPoint wasn't available."
– Tom Morris, Noted Philosopher and Author, If Aristotle Ran General Motors
MARBLE FLOORS ARE NICE, BUT . . .
"I spoke recently in a spectacular venue - the first floor of the Natural Science Museum in Chicago. It really was quite beautiful: part of the beauty was the marble floors and an open, vaulted ceiling with wide open spaces. All of this combined for horrible acoustics. The sound reverberated and then dissipated. I doubt more than half the audience could clearly and easily hear my remarks - very frustrating for them, and for me."
– Gary Bradt, Author, The Ring in the Rubble
CLOSER IS BETTER
"Make the room as intimate as possible. The closer the chairs or tables are to the stage, the better. The audience can never be too close. I can't count the number of times the first row is 25 feet back. It's almost impossible to form a bond with a group when there is a moat between the speaker and the audience. Even if the majority of the group is watching it on screens, it's best to have the front as close to the stage as possible.
The next one is a little tricky, but always try and be accurate with the number of seats in the ballroom. As I write this, I am sitting in a ballroom set for 1100. There are probably 700 people -- the room looks half empty, especially since everyone tend to sit towards the back."
-- Bill Herz, Magician and Comedian
SPEAKING IN A TENT IN THE DEAD OF SUMMER - IS IT HOT ENOUGH FOR YOU?
"Recently I arranged a speaker for an event in Houston. It was a September afternoon and the sponsor was trying to decide whether to gather 500 people inside a tent on the company's property – or go indoors. Afternoon temperatures were expected to be 100 degrees – but inside the tent temperature would rise to 120. Knowing that, I felt certain the choice would be to go indoors. But no – the speaker, one of the great motivational speakers in the industry, called me after the talk to say he had never been hotter or perspired so heavily. The audience was uncomfortable beyond belief but they were kind and attentive to the speaker. Still – they would have gotten so much more out of the talk is they weren't so hot."
–Tony D'Amelio, Principal, D'Amelio Network
CAN YOU SEE OK?
"I have spoken in some very attractive restaurants. But in restaurants, the sight lines are often bad. I find myself looking around support beams to make eye contact with my audience, or literally walking around corners to see some others, while turning my back on the rest. In the worst case, I was literally ducking waiter's trays as they served coffee and dessert."
– Gary Bradt, Author, The Ring in the Rubble
I hope you find this article (and series) a useful reference and worthy of including as part of your event planner checklist. If you have a story, a tip, or a comment you'd like to add, please be sure to contribute to the conversation.
EVENT PLANNING CHECKLIST (PART 2): PRE-EVENT TIPS FROM TOP SPEAKERS
You undoubtedly have an event planning checklist that you've refined/perfected over the years. Here's a chance to perhaps refine it further.
This article is the second in a series about booking event speakers. Part 1 focused on the venue and how room size, configuration, and construction impact outcomes. In Part 2, I asked a group of top speakers to tell you – in their own words – about some of the situations they've encountered while on the road and offer their best advice on how to create great outcomes in the preparation phase of the event. What they have to offer here may make you laugh – or cringe – and hopefully, their comments will spur an additional item or two for your event planning checklist.
With loads of years of experience in this industry, there is one thing I know for sure and that is the speaker and the event planner have the same goal: to make certain the audience has the best possible experience. Whether you book motivational speakers, experts from academia, or former world leaders, incorporating these insights into your event planner checklist is a wise move.
CONTRIBUTORS (top, l-r) Claire Shipman, Mike Abrashoff, Jim Abbott, Vikram Mansharamani, Bob Woodward, Tom Morris (bottom, l-r) Tony D'Amelio, Chip Bell, Bill Herz, Polly LaBarre, Ari Fleischer, Bill Walton.
IT ALL STARTS WITH MAKING THE RIGHT CHOICE
If you don't choose the right speaker for your needs at the very beginning, everything else that follows can't make up for that shortcoming. There's nothing more important than the speaker selection process. Here are tips on the best ways to find the best fit - worth adding to your event planningchecklist.
PRE-DECISION CALLS
"I think great outcomes begin by selecting the right speaker to meet your needs. Even the best speaker may fall short of expectations if assumptions are being made about their relevance to the topic – or some other issue. That's where a pre-decision call can give event planners peace of mind – and allow the speaker to determine if he/she is a good fit. More importantly, a lot of speakers might be able to give you some great ideas on how to maximize their impact and get the most out of your investment. I have given over 1500 speeches and can share ideas of what I have seen work well. I am always happy to talk with event planner before they pick me. It is reassuring to all concerned. It's hard to correct a situation where the wrong speaker was chosen in the first place. A pre-decision call is a perfect way to assure a successful speech."
--Mike Abrashoff – Former Navy Captain and Author, It's Your Ship
KNOW WHAT YOUR AUDIENCE WANTS
"I was to keynote the funeral directors symposium for state association directors and their assistant directors. In my preparation research I learned that, reacting to the bestselling book, The High Cost of Dying, the FTC had issued new regulations on price disclosure that intensely angered most funeral directors. The association's executive director, however, assured me that, while some members were still hot over the issue, his state directors were ready to move on and eager to learn how to teach their members ways to effectively communicate with their customers.
"He introduced me and outlined my topic. As I was about to speak, one audience member walked to the floor mike and said, "If that is your topic, I have wasted my time coming to this meeting." The entire audience broke out in applause. I had not yet spoken a word. I quickly huddled with the executive director, now totally embarrassed by the reaction of his state directors. As I had warned him, they were far from over their anger over the regs.
"After agreement on a change of plans, I announced to the audience I was relinquishing my time to the association attorney to talk about the FTC regulations. I got a standing ovation…and took an early flight home, but I felt bad for the executive director who had to deal with the consequences of his failure to understand the real needs of his audience."
– Chip Bell - Customer Experience Expert and Author, Take Their Breath Away
PRE-EVENT CALLS
Choosing the right speaker is a great start. Next, add a pre-event call to your event planner checklist about 3-4 weeks in advance. It's a chance to fine-tune how the speaker will meet your objectives. Interestingly, some event planners are reluctant to engage in this activity. Here speakers explain why that participation is important from their perspective.
LET'S GIVE 'EM SOMETHING TO TALK ABOUT
"I find the pre-event conversations invaluable, but in many cases end up having to be a kind of an investigative journalist to get at who the audience is, what they're looking for, how I fit in the overall picture, how I can be most valuable to them. Seems pretty basic, but I'm surprised at how often it's left on the table. Now, there's the opposite problem – and that's a group of organizers who are either so wrapped around the axle and anxious about the event OR live in fear of some executive's wrath that they can miss the point of the exercise: which is to find the common ground where they can equip the speaker to be his/her best self and create the most impact/value for the audience. It's really refreshing when, after you cover all the key details, an organizer will ask, 'how can I help YOU be a success?' Or, as I once was asked (just once): 'What have you learned about what makes for a great event/talk? What should we do differently? What can we do for you in the 24 hours you're with us to make this a success?'
"To answer that question, what I'd focus on is: as much meaningful background and context about the audience and the event/themes they're trying to hit as possible; a sense of the overall flow of the event (how did they put the puzzle together and what's my role in it?); and then some practical details, like: don't schedule super-early rehearsals when not needed; schedule meet and greets and photos and schmoozing AFTER the talk; don't change things up in the schedule or other details (if at all possible) the day of the event."
-- Polly LaBarre - Partner, Management Lab and Co-author, Mavericks at Work
PREPARATION IS EVERYTHING
"Pre-event conference calls are invaluable for the same reasons mentioned above. I get nervous walking on stage without knowing anything about the group in front of me. I wish more event planners would make themselves available for them."
– Jim Abbott - Retired MLB Pitcher, Olympian, and Author, Imperfect
HELP ME HELP YOU
"A pre-event conference call is key. It not only helps me understand the audience, but it allows me to communicate my topic in a nutshell and get buy-in from the client. When the client feels fully engaged and in touch and able to have control over the event, the outcome is always much better because expectations align. And on the call I almost always learn about little details that can make a huge difference to the client - perhaps there somebody to mention, or a hand to shake, or an executive who needs special attention. And for me, the call starts my process of mental engagement with the clients and their event earlier, which is always useful. I really like to hear about the issues they are facing or milestones they've achieved. I feel on more solid ground when I walk out onto the stage."
– Claire Shipman - ABC News Correspondent and Co-author, The Confidence Code
CHECK THE TECH IN ADVANCE AND SHARE
Avoid the last-minute scramble by making certain you have the exact technical specs your speaker requires. Be certain to pass on to the people handling a/v - it can easily get overlooked, causing some excitement on site. Worth adding to your event planner checklist.
DOES ANYONE KNOW IF THE SPEAKER IS USING POWERPOINT?
"I can't count how many times I send a technical rider (which is very easy) in advance and the things that I've requested aren't there. I can easily get by without any of it, but the things that I (or any speaker) requests are there so that they can give the best presentation possible. Help your speaker do the best job possible for your audience and assign someone the responsibility to make sure the tech needs are passed on to the right person and in place at the event."
- Bill Herz - Master Magician
NO TECH SURPRISES ON SITE
"It's so helpful when details about the microphone and stage are communicated in advance, and actually are what was advertised. I roam quite a bit from the lectern, so without a portable mic – I'm a mess!"
– Claire Shipman - ABC News Correspondent and Co-author, The Confidence Code
TO Q&A OR NOT TO Q&A, THAT IS THE QUESTION
Sometimes Q&A is appropriate. Sometimes it's not. If you decide to allow it, a bit of forethought can enhance the proceedings and assure a brilliant outcome. Add the item to your event planner checklist so it's not taken for granted.
IMPROVE CHANCE OF SUCCESSFUL Q&A
"If a meeting agenda includes time for Q&A, plant the first and second question. Experienced speakers will usually have something prepared to fill the almost inevitable silence and jump start the discussion energy. I often tell a quick funny story relevant to the talk and that gets energy going again."
– Tom Morris - Philosopher, Former Notre Dame Professor, and Author
KEEP IT REAL AND UNFILTERED
"I like a format in which the audience can ask their questions live. It brings the audience into the presentation, instead of everything going through a moderator."
Ari Fleischer - Author, Media Consultant, and Former White House Press Secretary
ROVING MICS ARE THE IDEAL SOLUTION FOR Q&A IN BIG AUDIENCES
"Having some Q&A with a big crowd can be tricky unless the audience members have a microphone available to them. Without one, the speaker and other audience members may have a problem hearing the question. Some event organizers use mics on stands in the aisles, but if time runs out, I personally hate leaving people with unanswered questions... which is why I prefer the roving mics."
--Vikram Mansharamani - Lecturer, Yale University and Author, Boombustology
PREPARING INTRODUCTIONS
Introductions are sometimes given little thought, yet they're one of the great ways to set your speaker up for success with the audience. It's worth adding an item on your event planner checklist. Some tips from veteran speakers who all agree: keep it short!
WHO'S WRITTEN THE INTRODUCTION?
"PLEASE, re-write/re-think the bio/introductory material you get to connect the speaker to your own audience. And if you don't have the info you need, ask the bureau/manager/speaker! I've designed and run countless major events. When I'm the emcee, I personally write every introduction – I pull out a few key themes that describe why this person is extraordinary and what particular themes/ideas he or she will tackle, and how he or she connects to the event/the audience. And I always try to make it warm, funny, and energetic—the message is: you're in for a treat. Oh, and make it SHORT – like a few sentences! It definitely takes a little thought, but it's so worth it. I writhe in agony when I'm waiting in the wings hearing, rarely anything with that level of thought, and often not the short intro we share, but the ENTIRE bio or a big chunk of it."
-- Polly LaBarre - Partner, Management Lab and Co-author, Mavericks at Work
HERE'S SOME BAD NEWS – AND NOW LET'S BRING ON THE MOTIVATIONAL SPEAKER
"Try not to announce massive layoffs that perhaps include many people in the room, right before introducing a speaker you want them to enjoy. Or - if this HAS to be done, then make sure the speaker knows about it as far in advance as possible and not the second he's about to walk out on stage. It's happened to me."
– Tom Morris - Philosopher, Former Notre Dame Professor, and Author
KEEP IT SHORT
"The best introductions are short ones. Short. Direct. And to the point."
--Ari Fleischer - Author, Media Consultant, and Former White House Press Secretary
UNPLUGGED INTROS
"I have just four pointers for people who introduce me: 1) speak from the heart - not from notes; 2) offer one factoid of a personal nature - maybe that they were chatting with me earlier in the day, or that they saw me play, or that we both like the Grateful Dead; something personal; 3) tell why I was chosen to speak; and 4) the whole thing should not be more than 90 seconds. That's a great setup for me taking the stage."
--Bill Walton – Basketball Legend and Author, Back from the Dead
THE DINNER SPEAKER
It's become a tradition: the after-dinner speaker. But it's not without its challenges, as some explain below. It's worth including an item on your event planner checklist to at least address the sequencing of the speaker and the meal.
WHAT'S FOR SUPPER?
"Pre-dinner talks work better than post- or mid-dinner. The rattling of dishes and commotion, either in the audience or backstage, can really make it tough to maintain concentration – for the audience and the speaker. After dinner and late into the evening is also tough for the speaker to maintain energy and hold the audience's attention for 45-60 minutes. After a big meal, a glass of wine and a long day, it tests the endurance of the audience."
– Jim Abbott - Retired MLB Pitcher, Olympian, and Author, Imperfect
SHHHHHHHHHHHHHHHHHHHHHHH!
"Probably the worst dinner situation was a huge celebratory event for a major PR industry association. They'd had a cocktail hour and were serving dinner (and lots of drinks) during my talk. There were a few tables in back that were essentially at what seemed to be a raucous bachelor party. I actually stopped at one point and, with a sense of humor, asked if they wouldn't mind wrapping up their conversations for a few minutes. I must have gotten hundreds of emails from colleagues who were horrified by the behavior. I guess this goes to the point about avoiding talks DURING dinner (and especially after extended cocktails)."
-- Polly LaBarre - Partner, Management Lab and Co-author, Mavericks at Work
SHORTER TALK, MORE INTERACTIVITY
"For dinner (and even lunch) talks, I find it best for the audience to get involved as much as possible as soon as possible. For me, at meal functions, it's best to speak about 20 minutes and throw it open for audience questions. Both they and I are more interested in what they want addressed. The audience is the best barometer and the best way to get in tune with them is to ask."
--Bob Woodward - Investigative Journalist, The Washington Post and Author
RETHINKING THE AFTER-DINNER SPEAKER SLOT
"There are some really great reasons to rethink the after-dinner speaker ritual. To me – wherever possible – the idea of having the speaker go on during the pre-set appetizer course can be much more effective. I'd imagine there are a lot of skeptics about this idea but please consider these reasons why speaking before dinner makes sense:
-The audience will be more engaged
A long day, a big meal, some alcohol and then the speaker is supposed to get up and be fabulous? And if it's the first day of the conference – with perhaps long travel to the event thrown in – and maybe a few time zones difference … you can see why there's an advantage to getting the speaker in front of the group sooner than later.
-The quality of the conversation at the host's table will improve
The conversation at the table hosting your speaker will be a lot more interesting after the speech. People can ask questions about what was said. In the long run-up to an after-dinner speech, the speaker will likely end up talking to table mates - at least in some part - about what they'll be saying in their talk.
-Your speaker can relax
Speakers won't generally completely relax until after the talk. They can be better company once they can relax and have a glass of wine with everyone else. At that point, they can expand on what they said during their talk with their table mates.
-The audience has a chance to interact about the speech
Once the speech is done, instead of everyone heading off in different directions – or to the bar or to bed – the conversation at the tables can be a lively discussion about the ideas the speaker presented. This is particularly important when the topic of the talk is something particularly relevant and substantive to the audience.
"I know this idea might raise an eyebrow for some. It's easy to come up with all kinds of reasons why it won't work – people are hungry, the appetizer is too complicated, etc. But if you try it once, I think you'll be really pleased with how things work out. Your audience will get more out of the speaker and your speaker will thank you, too."
--Tony D'Amelio - Principal, D'Amelio Network
As with so many things in life, success with booking event speakers begins with the fundamentals. In this case, we're talking about what happens before everyone gets on site. I hope you find this article (and series) a useful resource with tips worthy of including as part of your event planner checklist. If you have a story, a tip, or a comment you'd like to add, please be sure to contribute to the conversation.
EVENT PLANNING CHECKLIST (PART 3): ON-SITE EVENT TIPS FROM TOP SPEAKERS
This is the last in my series on avoiding disaster when booking event speakers. The idea is for top speakers to talk about their onsite experiences in a way that provides some useful lessons and reminders. Ideally, their insights will find their way into your event planning checklist.
Part 1 of this series focused on the venue and how room size, configuration, and construction impact outcomes. In Part 2, I asked a group of top speakers to explain how to create great outcomes in the pre-event phase of the process. In this third and final installment, the idea is to get top speakers to offer tales from the road – what's gone wrong on site and how it might have been avoided. What they have to offer here may make you laugh – or cringe – but hopefully, their comments will spur an additional item or two for your event planning checklist when booking event speakers. In certain spots I (or someone from my team) have added insights; I hope you'll find helpful as well.
With loads of years of experience in this industry, there is one thing I know for sure: the speaker and the event planner have the same goal – to give the audience the best possible experience. Whether you book motivational speakers, experts from academia or former world leaders, the advice shared here will help assure a smooth-running event and a great experience for the audience.
I hope you find this article (and series) filled with useful tips.
BOOKING EVENT SPEAKERS -
ON SITE SUCCESS

Contributors (top, l-r): Claire Shipman, Geoff Colvin, Jim Abbott, Dan Pink, Jerry Linenger, Tom Morris
(bottom, l-r): Josh Linkner, Jenny Taylor, Gary Bradt, Polly LaBarre, Mike Abrashoff, Nick Morgan

A/V ARRANGEMENTS
SHOULDA HAD A CLIP-ON MIC
"I was speaking at the very striking new federal courthouse in Boston. Dinner was set up on a vast, curving balcony. Unfortunately, it curved around behind me on both sides. The podium was set up so that I was looking out into space; I had to look over my right and left shoulders alternately in order to see anyone. I had asked in advance for a wireless lavalier mic, as I always do, but they didn't have one. So I had to use the mic that was connected to the podium -- but of course, when I looked left or right to see the audience, I was no longer talking into the mic. It was miserable." – Geoff Colvin
EXTRA SOUND SUPPORT IS WORTH THE EXPENSE
"One time I spoke to several hundred people in a large, traditional meeting room in a conference center. I thought everything had gone fine until afterward, at the book signing, many people shared they liked what they heard but hadn't heard much because the speakers were not set up properly to cover the room. Only those in the center of the room could clearly hear my remarks, while those on either side were left out. Some had even gotten up and moved around during my talk in an attempt to hear me. The most frustrating part was people shared the same thing had happened the day before with another speaker, but the meeting organizers had not addressed the problem." – Gary Bradt
SLIDES
In the Las Vegas Convention Center once, I was sitting waiting to go onstage to speak to several hundred people when I noticed my slides started to automatically cycle through, one after another. After a few moments of panic, I realized on the other side of the curtain was a large trade show with dozens of display booths also set up to show PowerPoint presentations. My clicker frequency must have been tied into some others over there leaving me with no control over my slides. Disconnecting the clicker and having the tech guys advance the slides on my verbal cue averted disaster. But it was not fun having to figure that out at the last second." – Gary Bradt
A/V DOS AND DON'TS
"Don't plan to hand the speaker his clip-on lapel mic as he's walking onto the stage. Wire him up in advance and test it." – Tom Morris
CAN YOU HEAR ME NOW?
"Probably the worst was a talk I gave on one of those dinner cruise ships. This was a fairly small group, maybe 30 or 40, and the ship's dining room was barely big enough to hold them. When I checked it out before the cruise departed, the air conditioning was so loud that I knew I couldn't be heard -- there was no sound system -- so I asked that they shut off the A.C. when I started my talk. When the time actually came, however, the ship was underway and the engines were far, far louder than the air conditioning. So, when the staff obediently shut off the A.C. at the beginning of my talk, it didn't make a bit of difference to the noise level, but it did cause the crowded dining room to become very hot. I tried to yell my remarks over the sound of the engines, but I doubt if more than half the audience could hear anything. Perhaps the one saving grace was that by that time pretty much everybody, except me, was pretty drunk." – Geoff Colvin
SOUND IDEAS
"Always have someone on the sound board to lower the volume if there's feedback. That can ruin a talk. I was once introduced to 800 people, handed the clip-on mic as I walked up the stairs to the stage and discovered it was set way too high and screeched and wailed as I tried to speak. I moved the clip lower and lower and lower on my tie until it was at the tip end of the tie, at my belt where the feedback stopped but my voice was so soft folks had a hard time hearing me. There was no sound guy in the room. And the audience was a famous electronics company." – Tom Morris
MORE ON THE CONTINUING MYSTERY OF A/V ISSUES
"I was recently at an event where they didn't have my slides (though I sent them ahead). They didn't have a computer that could run the slides I had with me on a thumb drive or hook up to my computer. All these tech needs are in the contract and were part of our pre-event call, but the information didn't find its way to the people on site. Finally, some guy backstage figured out how to load them up, but then the clicker didn't work! So, he took the initiative to advance my slides whenever he thought appropriate. It became this semi-hilarious exercise in me negotiating a three-way conversation between the audience and the guy backstage, missing many of my visual punchlines, but winning the audience based on the sheer humanity of it. Mostly, I'm so surprised by what an afterthought A/V can be (especially sound)." – Polly LaBarre
IS THERE A SOUND DOCTOR IN THE ROOM?
"People underestimate the role of acoustics. I have seen so many programs go awry because of poor acoustics or the program next door bleeding over and becoming a distraction. I had one meeting planner come up to me after a speech in Scottsdale and say that they couldn't hear me in the back for the whole speech. STOP me and get it fixed!!!! Also at yesterday's speech in Phoenix, the wait staff was rolling tables and carts behind the stage while I was speaking. Work with the staff in advance to make sure there are no clanking dishes or noises coming from backstage." – Mike Abrashoff
CARE AND FEEDING OF SPEAKERS
SOME SPEAKERS LIKE A LITTLE ZEN
"Many speakers like a little quiet time before they're on stage. It's not ideal to put the speaker through an endless round of visits and meetings and long walks in the sun in a hot suit right before presentation time. As the speaker for their preference" – Tom Morris
NOTHING LIKE A GOOD NIGHT'S SLEEP - THE HEAVENLY BED
"It's a given that a meeting planner wants the speaker to be at their best on stage. One of the key ingredients to a great presentation is whether the speaker has gotten enough sleep the night before. There are lots of things that a meeting planner can do to ensure a good night's rest:
--A room away from the elevator: many attendees like to stay up late and socialize in the bar. Am all for that but many times they are loud when they got off the elevator at 1 am and the speaker's room is right next to the elevator. Also . . . that annoying "ding" she the elevator door opens and closes prevents a speaker from getting a great night's sleep. Speaking of noise - make sure the speaker's room is away from the elevator and the ice and vending machines.
--I've had calls to my room by some well-meaning event planners at 11 pm to see if I got in OK or if I need anything. I generally turn in early so the late night calls can be disruptive. Most speakers are generally responsible people and will contact you if something is needed. Likewise, don't call a speaker at 6:20 am if they're not going on till 11 am.
--Please "protect" the speaker's room reservation. Sometimes speakers get in late and the front desk personnel have given out all of the rooms. Believe it or not, I have been offered a Murphy bed in the dining room of a suite. Several times, the hotel was completely sold out and I had to go to a different hotel. One event in Atlanta, they moved me to a Ritz Carlton 30 minutes away. They sent a town car to pick me up the next morning and it broke down on the way to the event. Such is the glamorous life of the speaking professional!" – Mike Abrashoff

COMMUNICATING WITH THE SPEAKER
MIXED MESSAGES
"I did an event recently where the speaker was scheduled to speak for 45 plus Q&A. Onsite – given instructions to speak less and do more questions by the exec in charge. The speaker dutifully spoke for 35 – there were no questions. Time was cut short – schedule was thrown off and the event planner was unhappy. She called me to complain. She didn't know her host made this change. Two lessons: 1) make sure speaker doesn't get mixed signals/direction and 2) plant questions.
"The same kind of mixed signals thing happened with content not long ago. The speaker arrived in the ballroom ready to cover the content that was discussed in the pre-event call. Before he took the stage the speaker had a conversation with the new executive in charge of the organization who told him to be sure to cover content that wasn't in the talk. So the speaker dutifully made the change on the fly – thinking he was doing the right thing. Not so. The event planner was furious when she called me. But she had no idea that the speaker had been given last minute direction by the new executive.
"The lesson is to be certain everyone in the organization is on the same page to avoid sending mixed messages to the speaker." – Tony D'Amelio

TIMING AND SCHEDULE
HOW MUCH TIME DO I HAVE LEFT?
"I gave a speech a number of years ago to a Fortune 500 company that involved a great number of prep meetings. Now, I'm all for prep, and it's great to gain insight into the audience, but in this case it turned out that what was really going on was that several political factions in the company each had certain points of view and messages they wanted included in the speech. I was anxious to please and said "yes" to it all, hoping to keep all of the factions happy. Heck, I wanted to be invited back to give more speeches -- this was a big company with lots of opportunities.
By the time the date rolled around, the speech was festooned with probably a half-hour too much material. I was going to have to race to get done.
But the speech started late -- the previous activity ran late -- and the organizers and I had a quick huddle just before I went on to figure out what to do. We all agreed I would run late too and get my full hour.
Midway through my speech, however, one of the top executives checked in (as I later learned) and was horrified to discover that we were running 30 minutes late. He instructed the timekeeper to change my countdown clock from 45 minutes left to 15. (Caution: this is not a nice surprise to throw at your speaker.)
Imagine my surprise when I checked the clock about two minutes later and noticed that I had 13 left. I've never talked so fast in my life, nor given such short shrift to matters that seem hilarious now, but were of grave import at the time.
The ending of the speech was, if we're being kind, a train wreck. I was hoping to deliver a more quality experience for the audience but it fell well short. Hopefully the event planner took a lesson away from it and didn't cut a speaker's time in half after they'd hit the stage." – Nick Morgan

"Finally --- I am always SO grateful when there is a nice, visible countdown clock someplace near the stage. I am fully capable of talking for an hour and a half straight,
and nobody wants that. It is a huge help not to have to look at a watch (rude) or my phone (awkward) to check the time. – Claire Shipman
WHO'S THE OFFICIAL TIMEKEEPER
"I was giving a talk to 200 CEOs plus another 1000 senior executives, and I was the closing speaker. The meeting planner wanted me to bring it home big and inspire the audience. Unfortunately, the event was running late and the schedule got way behind. Since people had to catch flights and I was the finale, there was a hard stop. As the clock ticked on, my client texted me five minutes before taking the stage and requested I reduce my talk from 60 minutes down to 35. The problem is that a good speech takes the audience on a journey, and I carefully research and prepared custom content for this important audience. The end result was not nearly as strong as it could have been since I had to rush and skip some important stories to meet the planner's timing request. The audience was still very happy, but I knew it wasn't my best performance. The inherent lesson: watch the schedule like a hawk and build in buffer time in case things get behind. This way, the experts you bring in to inspire and inform your audience can do their best work and make their biggest contribution."—Josh Linkner
MURPHY'S LAW: MAKING THE BEST OF AN UNEXPECTEDLY BAD SITUATION
"I spoke at one event where the fire alarm went off in the middle. I kept talking — that's what I do — but the hotel personnel came into the room saying "This is serious. Everyone out!" Since the conference was on a tight schedule, about 400 people went outside — and I continued the talk – and do q&a – standing on a bench outdoors with a megaphone. The lesson for speakers and event planners: stay calm, improvise, and do right by the audience." – Dan Pink
MISCELLANEOUS
GETTING TO KNOW YOU
"I love to meet casually with attendees before the talk if at all possible. I personally feel so much more comfortable if I can attend a breakfast or listen in on the presentation before mine -- meeting people, shaking hands and getting a feel for the mood and the energy of the conference. It's extremely helpful in settling those pre speech nerves. You can always pick up some tidbit or inside joke that makes your presentation feel more personal for you and the host. Event planners might be surprised how open speakers are to getting to know the folks attending before their talk." – Jim Abbott
THE MOB SCENE AFTER THE TALK
"People generally like and are fascinated by astronauts. I am greeted warmly by the audience and my goal is to always give a talk that matters to them, that allows them to live vicariously and experience the challenges and thrills of being 'off the planet.' I always try to weave my way through the (hopefully, standing!) audience at the end of the talk and then remain in the foyer to greet them as they exit.
Meeting planners often have an 'oh my God' look on their face when they see the mob surrounding me. I think that people want to touch someone who has been "out there", and with ubiquitous cameras on cell phones, often want a photo. Often, they have a story or two to tell of someone that they knew who contributed in some way to our space program.
While more than glad to do this, and while I absolutely enjoy talking, shaking hands, and getting blinded by the phone flashes (well, not so much to the latter) – time is limited. Often break-out sessions are about to begin, and I do not want to disrupt the flow of the meeting. I NEED HELP! Meeting planners need to provide a few people to gently urge people to have their cameras ready and to keep moving because others want their turn. When done well, someone grabs my lavaliere microphone, someone repeatedly announces 'Keep moving please,' and when time is up, someone escorts me to the elevator with a polite, 'We are sorry but Dr. Linenger has to go.' Ideally, throughout this evolution, I look like the last thing that I want to do is to stop talking about Star Trek or not take five more photos with the same person. I am being pulled away! I absolutely would like to spend the next five hours with you! It was great meeting you! In order to make the person feel important (and do not get me wrong, they are important – might be your best customer – but again, time is limited) I need to appear helpless that we can't keep on talking. The event has to stay on schedule.
So bottom line: do not breathe a sigh of relief at the end of the lecture – it is not over yet. Please do your best to be firm so that the speaker can give full attention and respect to every one of your guests, within the constraints of limited time allowed." – Jerry Linenger

SUPPOSE EVERYONE WANTS AN AUTOGRAPH OR A PICTURE
"The end of a speech and exit strategy is the only area where things get uncomfortable at my talks. Clear communication is really important. We generally book for 90 minutes, 60 for the talk and 30 after for meet and greet. Those 30 minutes often turn into long lines with camera phones and autographs and it invariably lasts longer than 30 minutes. Event planners can get uncomfortable about the next event on the schedule, I get uncomfortable when I know that the line could be cut off and some attendees may be disappointed . . . and truthfully it's difficult to stand and take pictures for longer than the speech itself.
"I am always thrilled to be invited to speak and will do everything I can to make it a great experience, but negotiating through those after-talk moments can be awkward for everyone. Pre-event planning is usually pretty good about coordinating the time leading up the presentation, usually to the minute, but the time after sometimes gets overlooked." – Jim Abbott

PHOTO OPPS
"Photo opportunities can be tricky business. Over the years, we've refined and perfected a seamless process for VIP photo opps that keeps stress to a minimum and is supremely organized and efficient. This process has been used by presidents, heads of state, captains of industry, show business superstars, and more – with great results. Here's a link to the blog by DN's Jenny Taylor with more details."– Tony D'Amelio
BOOK SIGNINGS
DN's Jenny Taylor, who served as event coordinator for and traveled to events with President George W. Bush has done her fair share of book signings. Here is Jenny's best advice on arranging a smooth and efficient book signing with your speakers:
It is very important that book signings are organized and efficient so that the Speaker has the opportunity to meet as many attendees as possible. The last thing a Speaker wants to do is to waste attendees' time in a long line or not having the chance to get through the line in the time allotted. Please follow the instructions below to ensure that your book signing is a success:
If you will be handing out books to all attendees, consider having the Speaker pre-sign all of the books prior to the start of the event. To streamline the process, the following steps should be made:

Please have all books unboxed and stacked on the desk in the room before the Speaker arrives on site.

Ask the Speaker if the books should be flagged to a particular page for signature so that this can be coordinated as the books are unboxed.

Along with the books, please provide 2 or 3 black Sharpie markers and the name and number of someone to call to retrieve the books when the Speaker is done signing them.

When the Speaker finishes, they will give the contact for the books a call to let them know they are ready to be picked up.

Please note that it can take approximately 1 hour to sign 200 books using the process above.

Sometimes travel will set limitations on how many books a Speaker will be able to sign. A great alternative is sending bookplates to the Speaker in advance.

Book signings should immediately follow the Speaker's presentation. Please designate 2-3 staff members to assist with organizing attendees and moving the line. If following the steps above, the books will already have been pre-signed and the speaker can use the time at the book signing to personalize the books while keeping the line moving. We suggest calling these signings, "Meet the Author."
FINALLY, READ THE CONTRACT
"It's so basic. It's where you'll find all the essentials and learn what's important to your speakers. When onsite it's best to check, double-check and check again, that you've got the specifics covered. It will avoid the uncomfortable situation of finding out at that last minute that something assumed to be acceptable to the speaker is specifically outlined as "not acceptable" in the contract. It avoids putting the speaker in an awful position which can sour the mood. He/she likely won't be happy and won't feel 100% comfortable giving their presentation." – Jenny Taylor, DN Operations Director

EVENT PLANNING CHECKLIST: THINK BACKWARD WHEN BOOKING EVENT SPEAKERS
Choosing a speaker for an important event can become a frustrating experience. There are so many choices it can become difficult to know how to sift through them all. And then there's the challenging process of getting all the stakeholders to agree on the candidate.
There is a way to draw out the best possible recommendations from whatever speaker resource you're using. Back in my agenting days, I found a way of helping event planners think through their needs in a way that gave me the information I needed to adequately assist them. This short piece is meant to give you a solid strategy to include in your event planning checklist the next time the need to hire a speaker.
START AT THE END
Think backward. The idea is to give your speaker resource you're working with answers to a series of questions so they wind up with a clear picture of what speaker success would look for your meeting. Once you've clearly identified the target, recommending the right speakers is so much easier – and the chances that the speaker will be successful are improved considerably.
This all sounds like such common sense – and it is – but it's not practiced very often. The benefits of doing so are great, especially when you're working with a pro who really deeply understands the speakers that are available – not just their content - but their habits, quirks, and personalities.
VALUABLE INSIGHTS TO PROVIDE - NOT NECESSARILY OBVIOUS
How important is social interaction?
With some events, there is a reception or meet and greet. Decide if social interaction is important to you. Some speakers are better than others at that kind of thing. Even big name speakers can be shy - and some small number may be aloof or not very friendly. Knowing the answer to this question can be really helpful to the person guiding you to the right speaker choice.
Is the credenza photo important?
Sometimes it seems that the whole point of the speaker at the event is giving VIP attendees a chance to line up for a photo op with the guest speaker. Not every speaker is credenza-worthy. The argument can be made that if the speakers aren't recognizable, the impact of the photo is lost. So this little detail can be very helpful in guiding your speaker Sherpa to the best choices for you.
Is the speaker's main role to support or reinforce a branding effort?
Maybe the reason to have a speaker is more about enhancing your brand with the audience. Perhaps they're VIP customers and prospects and the speaker's message is intended to leave them feeling confident that their trust in you is well-deserved because your firm is leading-edge and focused on the opportunities that come with the future.
Context matters: getting the message right
There is contextual information that can be really useful to the process of eliciting speaker recommendations that are dramatically on target. Not all of these questions are right for every event, but you'll get the idea from what follows on how to be helpful to your speaker resource.
I think the big question is this: how do you want the audience to be different once the speaker is done? What would you like them to walk away with - what is important to them?
Some information that helps drill down a bit more on that include:
Who is in the audience: senior leaders, front-line personnel, VIP customers, sales professionals, top dealers or distributors?
If you're looking for a motivational speaker, what obstacles you're trying to help people overcome?
Is the company/industry having a great year or a bad year? Is there a merger, sale, downsizing coming – any kind of organizational change is useful to know about. Those details are critical and because answers may lead to recommending very different candidates.
SUMMARY
The point of hiring a speaker is to impact the audience and perhaps change the way people think about things. To achieve that result, thinking backward really does work. It draws out the best possible recommendations from whatever speaker resource you've working with. And if the speaker resource you're working with isn't prodding you for the answers to these questions, you can be well-prepared and provide them without their prompting. By starting at the end, with a clear outcome - it's easier to get great advice on the candidates that will most closely match your needs. At that point, booking event speakers becomes so much easier.

IF YOU'RE BOOKING EVENT SPEAKERS, DON'T OVERLOOK PRE-EVENT CALLS
Taking your time to choose the right speaker is a great first step to a successful outcome. After that, a well-planned pre-event call, about 3-4 weeks in advance of your program, will make certain your speaker has the best chance to shine and meet your objectives.
Curiously, some event planners are reluctant to engage the speaker (or their designated staff person) in this activity - yet, it's a vitally important piece of the puzzle. At other times we hear from speakers that their pre-event call was a circus and not useful at all.
With pre-event calls, as with most things, a little bit of planning goes a long way towards giving your audience a message they'll find really useful. It's in the spirit of making events more successful that I asked some top speakers – and one person from our team here at DN - for their suggestions on how to do great pre-event calls. Some great tips here for your event planning checklist.
Let's hear from the speakers themselves about how you can make the most of the time with them on a pre-event call.
HELP YOUR SPEAKERS LEARN WHAT THEY NEED TO KNOW - TIPS FROM SIX EXPERTS
THE BASIC INFORMATION IS SO IMPORTANT
Polly LaBarre - Partner, Management Lab; Co-author, Mavericks at Work
I find the pre-event conversations invaluable, but in many cases, I end up having to be a kind of an investigative journalist to get at who the audience is, what they're looking for, how I fit in the overall picture, how I can be most valuable to them. Seems pretty basic, but I'm surprised at how often it's left on the table.
There's also the opposite problem – and that's a group of organizers who are either so wrapped around the axle and anxious about the event OR live in fear of some executive's wrath that they can miss the point of the exercise: which is to find the common ground where they can equip the speaker to be his/her best self and create the most impact/value for the audience.
It's really refreshing when, after you cover all the key details, an organizer will ask, 'how can I help YOU be a success?' Or, as I once was asked (just once): 'What have you learned about what makes for a great event/talk? What should we do differently? What can we do for you in the 24 hours you're with us to make this a success?'
To answer that question, what I'd focus on is: as much meaningful background and context about the audience and the event/themes they're trying to hit as possible; a sense of the overall flow of the event (how did they put the puzzle together and what's my role in it?); and then some practical details, like: don't schedule super-early rehearsals when not needed; schedule meet and greets and photos and schmoozing AFTER the talk; don't change things up in the schedule or other details (if at all possible) the day of the event.
What makes pre-event calls great from your perspective?
A limited number of players (often you get 5-7+ people on a 30-minute call, which isn't terribly efficient). It's especially helpful to have the main stakeholder(s)—a combination of the person who knows how the event will run inside and out and the person who "owns" the subject area/content.

What information do you absolutely want?
What is the purpose of the event?
The audience (in as much detail as possible—demographics, organizations, position—but also, what do they stay up at night worrying about? What are the key—specific—challenges they face? What are their key constraints? Specific industry perspective, if relevant)
What is their definition of success? In terms of what their audience gets out of the whole event? Out of my session?
Why did they pick me? What specifically about my message/material resonated and why?
Where do I fit in the overall flow of the event? And if it's a recurring event, it can be very helpful to hear about past speakers who were a hit and why.

Do people go into detail that is unnecessary and unhelpful?
Yes, and I would love to not go over logistical details that you and the speakers bureau have already dialed in or will work on—e.g. flights, timing, A/V unless there's something particularly important that only I can address.
Once you get on site, have there been things you WISHED the meeting organizer told you on that call?
I feel like I'm pretty good at getting the info I want/need from the organizers during the call. The one thing that often slips: if it's a multi-organization event with participants from lots of companies, it's VERY helpful to as soon as possible have a list of the various organizations in attendance (so I don't talk about a competitor or I'm cognizant that there's a high percentage of folks in finance, or whatever). I often ask for this and then never get it, but it's a huge help.
Anything to add?
It can be especially rewarding when organizers treat you as a partner. After we go through all of the above, I usually "riff" on what I think my best content/flow might be and then ask for reactions—when they really speak up and talk about what grabbed them, what they'd want more of/less of, that can be a very helpful cue.
BOOKING EVENT SPEAKERS SUCCESSFULLY
Vikram Mansharamani, Harvard Lecturer, and author, Boombustology
A great call is one in which planners treat me as a partner in the process of trying to deliver an engaging live experience for the audience. The flip side, a less-than-ideal call, is one in which the planner takes the approach of dictating an approach as well as an outcome.
It is absolutely essential that I understand how my presentation fits into the theme of the overall agenda. Why was I invited to speak? What will the audience have heard before I step on stage?
While it's useful to understand the demographics of the audience, facts such as these can be conveyed in 2 minutes. Gender breakdown, age dispersion, political leanings, etc. shouldn't dominate a call. HOWEVER, I do find it very useful to have a list of sensitivities that might make the audience uncomfortable. For instance, I once spoke to a large audience in London for an investment firm and I was planning on discussing the anti-corruption efforts in China...but upon learning senior Chinese leaders would be in the room and were clients of the firm, I opted to deliver my message differently that expressed respect for the Chinese clients.
I especially like to know how the audience will be dressed. I hate being overdressed and seen as distant. It's also inconsistent with my message that everyone can be a dot-connecting generalist.

WHAT WE HEAR FROM SPEAKERS AFTER THE PRE-EVENT CALL
Matt Anderson, Director of Events,
D'Amelio Network
When booking event speakers, what speakers want with pre-event calls is a simple, concise overview of WHAT the event is, WHO the audience is, WHAT the client is looking for in their remarks, and HOW they fit into the overall program (more of a "WHY did we choose you" vs. "You're speaking right before the CEO"). In the speaker's mind, it should take 15- 20-minutes to cover all this. And if the speaker has additional questions, they are always going to ask them.
What speakers wind up getting on these calls is, more often than not, nothing very concise at all. Lots of people get brought on the call to present everything related to the conference: who will be arranging ground and who will possibly be greeting them but who the back-up person is in case the original person can't greet them, and what the dinner the night before is going to be (even though the speaker has indicated they won't be able to attend), and so on.
Speakers will be so much more receptive to the experience and the overall event if the calls are well thought-out. 95% of the time, they don't need to talk about the logistics - it just adds to the call and they aren't going to remember those things after the call because they have people who handle that. (There are sometimes when they WILL want to discuss a logistic - some will always discuss delivery of his PPT, others are careful to make certain they understand proper attired for them on site, etc.) If the event planners can just focus on content - what the speaker needs to know about the event and the audience to help them knock it out of the park – it will be time well spent.
EVERY EVENT PLANNING CHECKLIST SHOULD INCLUDE A PRE-EVENT CALL
Geoff Colvin, Fortune Magazine, and author Talent is Overrated
A great call gives me not just the basic information I need, which is very important, but also a feel for the group and the occasion – a forecast of the atmosphere in the room, so that I can begin to picture the attendees and think about the most effective way to reach them.
I want to know about:
the event: Is it a long-established conference where attendees know each other well? A brand new event?
the objective: What is the big-picture objective the organizers are trying to achieve? How do they see me contributing to their success?
the attendees: Who are they, and what are the big issues that will be on their minds as I'm speaking to them?
the program: What will the attendees have heard and done before I speak, and what will they be hearing and doing after?
my session: How much time? Would the organizers like me to do Q&A? (I love it.) If I use PowerPoint, how far in advance do they need it?
One other idea: During the call, conference organizers may want to ask my advice on how they plan to get maximum value from me or other speakers. Not to be immodest, but I've seen a lot. Do you really want someone to speak after dinner at a Napa Valley vineyard where your guests have had plenty of excellent wine, many have flown in from the East Coast, and they spent the afternoon playing golf in the hot sun? Or might a pre-dinner talk work better?
David Meerman Scott, author of The New Rules of Marketing & PR
I love it when the organizer who's booking event speakers shares with me what they hope to get out of the event and how my talk fits into the big picture. I particularly enjoy discussing the "theme" or "vision" for the event. If there is a stated theme or a tagline that is used throughout, I want to know so that I can weave that idea into my talk.
I really like it when the person who is introducing me is on the call so that person can learn a little about me. It's best when the intro is more personal and the call can help.
What information do you absolutely want?
I'm a big fan of logistics! When is the sound check? What time do I need to be in the room for the talk? Is there a break before or after I speak? Who is introducing me? If there is Q&A, how is that handled? When is the next meal after I speak and can I participate so I can mingle with attendees? All of this information is really important to me.
I always ask for the social media #hashtag and if there is any onsite social media staff at the event. On fewer than 10% or calls, the hashtag is proactively shared with me. About 25% of the time if it isn't proactively brought up and I ask, someone on the call knows what the hashtag is. In another 15% or so, they know that they have a hashtag but do not know what it is. And about 50% have no clue what a hashtag is or why they would want one. I think every conference should be shared on social networks because it adds to the attendees' enjoyment and increases the value of the event for them. Many times if the conference does not have a hashtag yet, I advise on creating one and get the ball rolling by tweeting with it leading up to the event and then onsite.

Once you get on site, have there been things you WISHED the meeting organizer told you on that call?
We forgot to tell you that we will be serving lunch during your talk. Is that okay?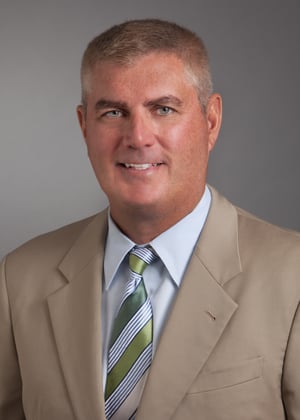 CRYSTALLIZE THE EVENT GOALS IN YOUR SPEAKERS' MINDS
Mike Abrashoff, former Captain USS Benfold, and author, It's Your Ship
As a speaker, I want to know who the audience is, what's the purpose of the meeting, what are your pain points, why did you choose me, and what do you want the audience to do better or differently when they get back to work.
I also want to know what the attire is as accurate information can get lost when passed through the speakers bureau. I want to be aware of any company specific jargon. For example, some restaurants are called restaurants, some restaurants are called stores. The titles of the attendees also help...like GM's, AGM's, RGM's. Any little tidbit that makes me look like I did my homework with the audience gains me credibility with the audience.
Once I get that information, I can instantly outline how to tailor my presentation and give the customer confidence that I understand what their needs are. In all honesty, if I had this info in an email...I wouldn't even need a conference call but sometimes the conference call is the meeting planner's ONLY interaction with the executive hosting the conference so they are learning, as well.
One time, I had a CEO tell me he wanted his people to take more accountability. I asked him how he'd know if they became more accountable and he didn't know. He hadn't thought it through. He just knew he wanted some more of that accountability stuff but didn't have a strategy as to what it looked like and how he'd know if they were successful. So sometimes, conference calls have another purpose...crystallizing in the event host's mind exactly what he or she wants.

As someone who's been involved in bringing talent and audiences together for my entire career, I thought I'd offer up a few essential insights that would be useful to corporate event planners - both novice and veterans alike.
But first – a disclaimer: having spent 42 years in the agent world, 27 of them with Washington Speakers Bureau, I no longer occupy that seat. Needless to say, in that time I've accumulated a fair amount of experience in seeing the changes the industry has gone through. My new role is as manager of nine speakers who appeal to business audiences. My company does work with the full range of resources I describe here: bureaus, brokers, and other event planning resource firms that serve speaker buyers. I have nothing to gain here; the only intent is to shed some light on what corporate event planners have told me was confusing about the speaking industry during my former days as an agent.
SPEAKER RESOURCES
START AT THE BEGINNING – WHAT'S A SPEAKERS BUREAU?
Let's start with the basics. Most event planners secure their top outside speakers through a bureau or broker. Fundamentally, that entity is responsible for documenting the details with a contract and making sure the speaker has what they need (in the way of technical requirements, background information, etc.) to do a good job at the event. For bigger name speakers the responsibilities get more complex. Fees for the bureau or broker are built into the speaker's fee you pay.
Some bureaus only handle speakers they represent exclusively. Other bureaus work with speakers on a non-exclusive basis. Then there are bureaus that are hybrids: they handle both exclusive and non-exclusive speakers.
IS ONE CHOICE BETTER THAN THE OTHERS?
Well, when you are working with the exclusive representative you are working with people who arguably know the speaker better than anyone. So certainly that's an advantage. A devil's advocate would say that the trade-off is a potential lack of choice; that exclusive-only bureaus aren't able to fully meet the needs of event planners.
Bureaus that represent either all non-exclusive or a hybrid model of exclusive and non-exclusive speakers present themselves as offering more choice. And in the case of all non-exclusive operations, they suggest they're more objective in terms of their recommendations; implying they consider the speaker buyer's needs most of all – and don't have to worry about recommending exclusives first in order to keep them busy.
AM I BETTER OFF TRYING TO FIND SPEAKERS ON MY OWN?
Certainly, it's possible to spend time researching non-exclusive speakers and booking them directly on your own. Most people, though, are too busy for that. And people want the insurance and safety of having an organization that's got their back. In the event something happens with travel, speaker illness, etc. - it's comforting to have a pro ready to spring into action on your behalf. In almost all instances, it's not going to cost you any more.
So, as you can see, this decision really is a matter of choice.
WHAT OTHER SPEAKER RESOURCES ARE THERE?
PR firms, advertising agencies, event planning firms, event production companies, and others can also act as resources for speakers, though most of the time they will be sourcing speakers from bureaus, agencies, and brokers. These groups can be compensated for their services in any number of ways, which I've described below.
UNDERSTANDING EXCLUSIVITY
WHAT DOES EXCLUSIVITY MEAN?
Many speakers align with a single bureau for representation because it makes life easier for them. That bureau becomes the conduit for all speaking activity. Usually (but not always), the exclusive bureau is also the only one that can advertise the speaker and have them on their website.
CAN YOU ONLY BOOK AN EXCLUSIVE SPEAKER THROUGH THEIR EXCLUSIVE AGENCY?
Even though the exclusive bureau might be the only one with permission to promote the exclusive speaker, they will most always work collaboratively with event production companies, PR companies, ad agencies, etc. to meet the speaker needs of their event planning clients. In many (but not all) cases, bureaus with exclusive speakers will also cooperate with other bureaus and brokers to book events; an action that's called co-brokering.
HOW DOES THAT WORK, FINANCIALLY?
When an exclusive bureau co-brokers their exclusive speaker with another bureau or broker, sometimes the commission is split, which results in no additional cost to the sponsoring organization. In some cases the exclusive bureau will not split commission and the co-brokering bureau/broker must add a fee on top to cover their coordination efforts.
The financial situation varies when other third party resources work with the exclusive speakers bureau. How these groups are compensated for their services can vary: they can do it as part of their scope of services under their overall contract for the event; they can receive a portion of the commission from the bureau, or they can add a coordination fee on top of the speaker fee. Generally speaking these resources are transparent about the means of compensation.
NON-EXCLUSIVE SPEAKERS
WHY DO SOME SPEAKERS APPEAR ON MORE THAN ONE WEB SITE?
There is a whole world of speakers who are not exclusive with any bureau. For the sake of a better term, they free-lance and work with many bureaus, brokers, and other resources. Some of these speakers have a set gross fee and pay a commission to the booking entity. Some entities who work with clients on a flat consulting fee won't take the commission. Other speakers work on a net fee, which means the booking entity would add their service fee on top for coordinating all the details.
WILL THE FEES BE THE SAME FOR SPEAKERS THAT APPEAR ON MORE THAN ONE WEBSITE?
Most often, but not 100%. Many non-exclusive speakers dictate what the fee is going to be so it is consistent across all bureaus and sources. But there are some speakers who work on a net-fee basis – and for those, the bureau would be adding their coordination fee on top of that.
The brokers who don't handle any exclusives present themselves as unbiased and totally customer-focused. They say they don't have any agenda to keep this or that speaker busy – they operate purely on the basis of what's best for the event.
Some ONLY handle exclusive speakers
Some only exclusives AND non-exclusives
While bureaus with lots of exclusives certainly have an obligation to keep their speaking clients busy, there's no getting around the fact that the only way to build business is to make certain the best interests of the customer are served. So while they might recommend their exclusives first, they don't focus on them exclusively (no pun intended).
WHAT ARE SPEAKER MANAGERS?
Speaker managers, like my firm D'Amelio Network, generally handle far fewer speakers than bureaus and brokers – it could be anywhere from one to 20. A manager's focus is on being an advocate for the talent they manage. In that sense they're like an exclusive bureau. The manager's job is to know the speaker really deeply and promote him or her as widely as possible to the marketplace. Most often the manager works closely and partners with bureaus, brokers, and other resources to bring the speakers they manage to the widest possible audience. Speakers with management also generally appear on the websites of many different bureaus and brokers. Managers work to maintain fee integrity so the fee of managed speakers will almost certainly (but not 100%) be uniform no matter where you go.
WHICH SPEAKER RESOURCE IS BEST FOR ME?
That's the easiest question to answer. Just as in making any other purchase decision in life, work with the resource you trust the most; the one you feel most comfortable with. You will find that expertise can vary from resource to resource – ultimately, you want to work with someone who understands you, your audience, your objectives for the meeting, etc. Finding someone with those qualities is an invaluable partner in your event's success.

TAKE CONTROL OF THE CONTENT/MESSAGE
How can you generate maximum impact from the outside speakers at your next meeting or conference? How can you make sure the speakers' insights are relevant and focused on what matters most to your audience?
In my years helping event planners wrestle with that challenge, I have found there is sometimes no substitute for adding an experienced interviewer, discussion leader, or panel moderator. The difference it can make to the quality of the content delivery can be sizable.
CONVERSATIONS VS. KEYNOTES FOR HIGH-STAKES SPEAKERS
The customary speech with time left at the end for Q&A is fine in some instances. The alternative is to create an interactive from the start by adding an experienced and prepared interviewer.
The truth is that just because someone has something important to say doesn't automatically mean they're a compelling speaker. We've all seen really well-known and respected figures take the stage only to be disappointed. But what's amazing is you can take that very same person and put them in a discussion format with an experienced interviewer and the difference is amazing.
Over my career in working with former U.S. presidents, Federal Reserve chairmen, prime ministers, high ranking government officials, top business authors, actors, and athletes, I've found that the "conversation with…" format is liberating, natural, and fun. The format also works great with company leaders.
If you've hired an experienced interviewer and have briefed them on the issues that matter most to your audience, the conversation that results can be much more focused on getting the most important insights into the minds of the audience. With a conversation vs. a speech, when the speaker makes an interesting point, the interviewer can drill down right away for greater detail, extracting the kind of information that might never have come out in a speech or during Q&A.
MAKING PANEL DISCUSSIONS SHINE
Panel programs are a bit of a wild card – there's a risk of them being uninspiring - or worse. Sometimes panelists drone on, or just don't give enough information to fully explore their points. And sometimes, the panelists get so combative, you need a referee to separate them (be sure to read the Q&A with Fortune magazine's Geoff Colvin at the end of this piece. He had just that experience.).
Creating engaging panel discussions does not happen by accident. Bringing together a diverse group of experts to shine their expertise on important subjects that impact your company or industry is another perfect setting for an experienced panel moderator and discussion leader. It can transform an ordinary panel discussion into something quite special.
Managing the pace of the discussion so things move along briskly…making sure everyone contributes (and no one is overlooked)…drilling down deeper when there more insights to be mined…making certain the points you want to focus on with the panel are the ones the panel spends time on…and, of course, managing the interaction between the audience and the panel members; the top discussion leaders bring experience to your stage that elevates the conversation and the takeaways for the audience.
EXPERIENCE COUNTS: POPULAR PANEL MODERATORS, DISCUSSION LEADERS & INTERVIEWERS FROM D'AMELIO NETWORK

Fortune magazine's GEOFF COLVIN has played the role of moderator and discussion leader at Fortuneconferences for over two decades. He's also been a popular addition to major business conferences all over the world, having interviewed the leading figures from business and politics. He focuses on the technological, market, economic, and political forces driving disruption in business. Read Geoff's Q&A below on playing the role of moderator and interviewer. And this link will take you to Geoff's moderating & interviewing preview video.


For over 20 years BBC World News America news anchor KATTY KAY has been interviewing political and business leaders from all over the world as part of her role at BBC. When she brings her experience and poise to the live stage, the result is positively captivating. The topics she covers are not only Washington politics and global affairs but also related to her work on women's issues from her books The Confidence Code and Womenomics.

Beginning with her early days as founding writer and then editor of the groundbreaking business magazine Fast Company, POLLY LABARRE has been interviewing leaders in business that are reimagining their companies and industries. At live events, Polly focuses on innovation, employee engagement, creating organizational cultures that are fit for the future, and doing the hard work of leading change. She is the co-author of Mavericks at Work.
HOW TO MAKE YOUR NEXT LIVE EVENT SPECIAL - Q&A WITH
GEOFF COLVIN OF FORTUNE MAGAZINE
Q: What's the most surprising thing that's happened during a panel discussion/interview?
GC: I was moderating a panel in India when one of my panelists fainted and fell out of his chair onto the floor. We revived him and he was fine; the travel and time zones had simply caught up with him. After moving him safely offstage and establishing to the audience and other panelists that he was okay, we were actually able to continue the session.
Much stranger was a globally televised video conference in which my panelists were Richard Branson, Ted Turner, and Steve Case. Turner sat next to me, and I noticed that on his hand he had written "Richard" and "Steve" – the names of the other panelists. He launched into a slightly off-color rant about rejecting the digital world (as Case sat next to him) and how he wanted to be "with a member of the opposite sex" in the analog world; he went into more detail. Later Branson told a decidedly off-color story about Jane Fonda – who was married to Turner at the time. I prepared for a Jerry Springer moment in which I would have to separate the combatants, but they stayed in their chairs. At that point, I felt that I had to remind them all of the topic for discussion: "Lessons in Leadership."
Great Panel Moderator & Interviewer - Geoff Colvin: Overview Video
Q: How do you prepare?
GC: My guiding principle is "tons of preparation, not too much planning." I do a great deal of reading about the panelists, their businesses, and our topic; I search my own records for relevant research I've done and interviews I've conducted. Many times we do a pre-event conference call to talk about topics and to get the panelists comfortable with one another and with me. But I try to avoid substantive discussion because if we really get into the issues on the call, panelists often "leave it in the locker room" and don't repeat their best insights on stage.
Then I prepare a list of questions – but I know I won't ask the questions in that order. Inevitably the discussion goes in unpredictable directions, and it's vital for me to follow where it goes while keeping it relevant and on-topic. That's what I mean by "not too much planning."
Q: How do you play traffic cop and engage the panel and audience?
GC: My objective is never to play "gotcha." It's always to create a discussion that's interesting and useful for the audience. Keeping that goal in mind is a big help. If the discussion wanders away from "interesting and useful" I can redirect it, which keeps the audience engaged. I keep the panelists engaged by asking them about the big issues they're dealing with, which I have determined ahead of time. I often close the session by asking each panelist for a succinct piece of advice to the audience. Panelists, as well as audiences, really love that.
Q: What is the most common mistake most moderators make?
GC: The most common mistake is not following the discussion where it's going. If a panelist says, "We surveyed our employees about what motivates them and learned some really incredible things," then I don't care what question is next on your list – you'd better ask, "What did you learn?"
Q: Can you have too many people on a panel?
GC: You certainly can, and it's frustrating because most panelists need a bit of time to make their most powerful points. With too many people, none of them may get there.
Q: What's the hardest moderating assignment you've done?
GC: There have been a few, and inevitably they're when one (or more) of the panelists give one-word or minimal answers. I just keep asking open-ended questions, and usually, I can find a topic that gets the person to open up.
GEOFF COLVIN: Moderating Dell World - Big Data Experts Panel

Q: How do you make certain everyone gets heard?
GC: I'm very careful about this. I watch all the panelists closely for body language or facial expressions suggesting they'd like to speak up, and then I call on them. I use my own body language and facial expressions to signal a speaker that it's time to give someone else a turn. Sometimes I'll interrupt a panelist to ask another panelist to comment; through preparation, I know which panelists are good on which topics. My goal is to give everyone nearly equal time.
Q: Do you have a favorite person who you've interviewed?
GC: I've interviewed Jack Welch on stage many times, and it's always a treat. He's always relaxed, candid, and insightful, and he truly loves the give and take of a really substantive discussion.
My most inspiring interview was with Colin Powell and Madeline Albright – retired secretaries of state, one from each party, both absolutely brilliant, and deeply respectful and admiring of one another. If only everyone in Washington could be like them.
Q: Some organizations bring you back year after year to host their conferences: what's the secret to your success?
GC: Beyond doing what I've described, I follow a few other self-imposed rules. First, I am not the star of the show; the panelists and speakers are the stars, and my job is to help make them as effective as they can possibly be. Second, I am there to serve the audience above all. I want them to leave saying this event was absolutely fascinating and it gave them information, insights, and ideas they can put to work when they get home. Third, if I am hosting the whole event, I tie all the elements together. I connect the various sessions, and as the event unfolds, I identify the large themes that emerge; at the end, I explain what made the conference a coherent whole. Audiences find that especially satisfying and valuable and I think that's why I do so many event year after year.

In my previous life as a speakers' agent for top keynote speakers, I worked with a well-known non-fiction author whose name you would know; someone really well respected.
That author did a lot of speaking on the strength of impressive book sales; multiple #1 New York Timesbestsellers. The author was a good speaker. I say "good" because rarely was the sponsoring organization disappointed with the speech – but the author never got an emphatic, "That was great!" reaction from the event planner. When I would go to see this author speak, I loved the content but would come away a bit disappointed because the speech was read…word for word…while looking up occasionally.
The reviews were always good but not fantastic like they should have been for someone charging this kind of fee.
I think you can thank TED for raising the bar of audience expectations on speech delivery. Those nice compact talks, which are generally coached for months before actually being delivered, have caused audiences to expect speakers to be as focused on engaging the audience as informing them.
Back to this author who was handcuffed to the script when delivering the speech. Fast-forward to an event this author did for me several years ago. The author took the stage, and while squarely behind the lectern, to my great surprise, they looked up at the audience 95% of the time. The audience responded. They were more engaged than anything I'd seen in previous speeches. Note cards were used, but they were referred to infrequently.
The big point was the speech was not read word-for-word as in the past. The difference was extraordinary. The audience felt the connection and gave this speaker a standing ovation like they'd not received before.
After the talk, I walked up to the author and said, "you're not reading your speech! When did you change?" This author told me the "a-ha!" moment came during one of our big company events where several of our top keynote speakers we represented from government, media, and sports all spoke. Not one read or even used notes. None of them stood behind a lectern, either. That made a huge impression on this author who then decided to make a change.
At the root of this speaker's preference for reading the speech was the writer's mindset. Writing is a meticulous craft. And this author told me, their approach to speaking was to tell the perfect story with every detail in the right place. But what they realized in watching keynote speeches by a parade of other top speakers was that no one in the audience would ever know if the story wasn't perfect.
So what's the lesson here? To me, it's to put connecting first and perfection down the line a bit. It's the hardest speech delivery rule for infrequent speechmakers to follow – and my point here is that it can be hard for the pros, as well. But if you know your content, speak from the heart (read: be authentic!), and have the end result in mind, it's much easier to engage by just referring (if at all) to a few notes and maybe even (another scary idea) stepping away from the lectern altogether as the top keynote speakers do.
I had to take my own advice on all this back in 2011 when I led the effort to start a foundation in Stamford, Connecticut called Stamford Dollars for Scholars. We wanted to create an organization that stood for college scholarships in our community because no other group did. It was a passion of mine – and as we started this organization from scratch, I found myself having to talk to groups big and small all over the city. As much as I'd been around speakers and performers all my life, getting up and speaking myself was something that was far from natural for me. I wanted to make every point perfectly and referred to a written text instead of looking into the eyes of my audience. My connection with the audience suffered.
I quickly began doing what I would tell my speaking clients to do – prepare, trust yourself, and speak from the heart. It worked! Even better, it didn't take long before I was actually more comfortable out front – without a lectern and just a few notes. It made a world of difference in how I connected with the people in the room. I just needed to be brave enough to try it. I survived the experiment - I'm still alive and the world didn't end. If I missed a point of messed up on something, it came out in Q&A – or it didn't matter at all.
For anyone delivering a speech, engage the audience by following the speech delivery tip top keynote speakers follow: skip the script, use a few notes (if you must) to keep you on track and come out from behind the lectern. It might feel like a big leap, but it won't take long until it feels natural and comfortable. As a speechaphobe, I speak from experience on that one.
A career as a speakers' bureau agent
After 40+ years as an agent in the speaking industry, I now manage a small group of top experts who speak. In my new life, I work with most speakers' bureaus on a regular basis. They often ask me if I know someone who'd make a great agent. Sometimes I do - but most times I don't.
There is an unquestionable demand for really good people to come into the industry. You might even have looked at the industry and thought, "As career choices go, that would be really interesting; I wonder what it would take to do that job!" That led me to the question: what makes a good agent; what skills and traits do you need?
Over the years, I've hired, and weighed-in on hiring dozens of people for agent positions. Some decisions were good – many were not. In some cases, those who didn't make it were people I was absolutely convinced would be successful. I've struggled to understand why in an effort to make better choices for all concerned.
What makes a good speakers' agent? I asked that question to top people at several major speakers' bureaus. All have wrestled with this same question. Their observations and advice appear throughout this article. The answer isn't quite so simple because what you think depends on where you sit – meaning that the industry looks very different for agents in one company vs. another. The industry is deceptively different on so many levels. I'll explain what I mean in a minute.
THAT looks like a fun job!
Let's get this one out of the way at the very beginning: people say to me and industry colleagues all the time, "Your job looks like so much fun!" This industry offers a unique opportunity to keep engaged in the world in the way few other careers can match. I absolutely love my work. It has its fun moments – but for me, it's a rewarding feeling to be part of the effort that brings new ideas to audiences. I truly believe that a speech can change people's minds, careers, and lives.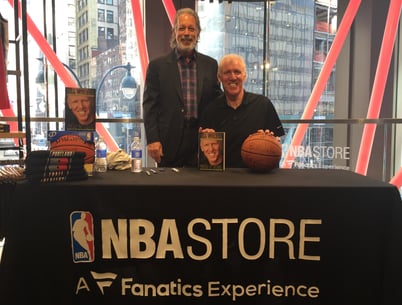 A fun moment: in NYC to launch BILL WALTON's autobiography, "Back from the Dead"
This industry has afforded me an amazing education. I've been at events with some of the world's top leaders - President Reagan, Margaret Thatcher, Colin Powell, Condoleezza Rice, Tony Blair, Alan Greenspan, George Bush and others – and to hear the off-the-record conversations has helped me understand the world in new ways. The industry has given me the chance to work closely with achievers of every description – from business, sports, and the arts – and experts and authors who speak about the power of attitude – these opportunities showed me that the sky IS the limit and that our attitude is so important. So yes, the job has been a life-changer for me – an absolute privilege. But ultimately, when done well, the job is about serving a talented speaker and an organization looking for a message for an important gathering. Hard work defines the job.
A variety of business models
Whether it's working as an agent (actually representing the talent) or acting as a broker (and working with no one exclusively) - there are a variety of business models in the speaking industry. The essence of what you need to do the job well is pretty much the same, though actually representing the talent exclusively arguably adds another level of responsibility, accountability, and stress – that's different from the model that doesn't answer broadly to the talent they work with.
More than a career – a lifestyle
For the best agents in this industry, it's not a career – it's a lifestyle. The speakers and talent that agents work with are on television, in movies, in publications, in the news, etc. all the time. Plus, as the world changes, the expertise a speaker brings to the lectern may change, too. Take Brexit, for instance. That, and populist movements around the world, essentially have reframed the insights audiences are looking for from certain kinds of global experts. Event planners rely on speakers' agents and brokers to help them navigate all the options. The best speaker bureau pros make their buyers look smart…to their bosses, the audience, and other event stakeholders.
Being informed has to be part of who you are
Keeping informed is a vital part of being able to recommend speakers to people who are planning events. When I would interview people for an agent job, I'd ask them how they stayed informed. Their answer told me a lot about whether they might succeed. For people who were pre-disposed to being well-informed – reading a newspaper and magazines was part of their normal life. Those people didn't find it overwhelming to keep up. For those who suddenly felt they had to keep up with the news, pop culture, business, etc. because it was part of the job; those people struggled to be top performers. Staying informed felt like work – and they didn't enjoy it. Moreover, they simply couldn't internalize what they needed to know to be a great resource for those they served. The best speaking industry pros will lead their clients. To do that it's what's in between the agent or broker's ears that's actually their most important asset.
Backstage at the 92nd Street Y in NYC with BERNIE SWAIN (left), founder of Washington Speakers Bureau and BOB WOODWARD (right), legendary political reporter for the Washington Post
Ultimately UN-glamorous
Success in this business, like any kind of sales role, comes with a routine. Those people who can, as they say, "plan their work and work their plan," can meet with great success. There's a methodical aspect to doing this work – and those who have that sense, do best.
SUPPLEMENTAL READING: Event Planner's Worst Nightmare,
Don't Sabotage Your Event (Part 2) and Don't Sabotage Your Event (Part 1)
Not a 9-5 job
But then again, most jobs aren't these days. In this case there can be lots of moving parts – jets, cars, hotels…and if things go off the rails, you have to be around to support the speaker or event plannerwhen they need it. It's just part of the job.
Is there a good background for joining the industry?
You'd think meeting planners, or hotel background, or people who've been successful in sales would be perfectly suited for this industry. I thought so, too. Over my years in the industry, I've hired people with such backgrounds. The success rate was about the same as from other random backgrounds. Career background didn't portend success in the speaking industry.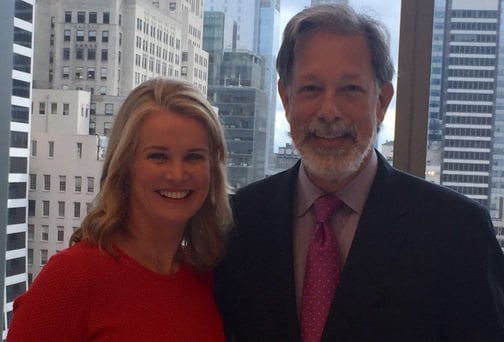 With BBC World News' KATTY KAY prior to her talk in Manhattan last November.
What's it take? Skills and traits.
So let's get down to it – what skills do you need to do this job really well? I put the question out to seven people in top leadership at North American bureaus. There was much agreement about one idea: the skill set of a top agent is rare. That said, there really is no one skill set. Personally, I've worked with people who were really great at the job, yet the way they did the work was very different from their successful contemporaries. So it's more like there's an array of skills and traits that define those who really succeed in the lecture industry. The list below incorporates my own observations and the best of what others shared with me. Here we go.
The most successful speaking industry professionals . . .
...don't do it for the money…yes they can make a great living, but that's not what drives them and people who work with them sense that. It fosters trust.
…are disciplined…the best agents I've seen are the ones who come to work every day and do the heavy lifting. They're focused on input, not output. They do their 20-mile march, get their calls done. They succeed through discipline and routine, not charisma and charm. It's not exciting or sexy, but it works.
…constantly re-prioritize…I asked a candidate once how they planned to approach the job. They opened up their notebook to reveal a grid where every minute was filled with activity. They had over-planned. I asked, suppose you come in and something happens and you can't get any of that stuff done? I got a blank stare back. The truth is, there are many days that just take on a life of their own – and you do what you must to assess priorities and adjust accordingly. In spite of that "plan your work . . ." thing, you have to know how to riff, too.
…have a sense of responsibility…they are successful because they've proven they can be depended upon.
…watch the details…there are SO many moving parts it's easy to get overwhelmed. Little things matter and the best agents have figured out a system of keeping it all straight. Everyone does it their own way – but they ALL do it.
…have an insatiable curiosity…about people, what they do and why they do it. They're learners.
…are storytellers…just like the people they are recommending.
…have a strong moral compass in an industry that can be famous for ethical lapses.
…form strong relationships with those they serve, not transactional ones… that means calling them when it is NOT in their sales cycle. I would also add in the importance of communication, service, "deal-structuring/partnership/negotiation", commitment, values, discipline and work ethic.
…never take "no" for an answer. They nicely circle back and offer more creative ideas. They recognize that buying a speaker is fraught with fear and the biggest role is to provide reassurance to event planners that they are making the right choice. Of course, they always have the best interests of the event planner at heart.
…have patience…a great agent builds relationships based on a foundation of trust, and trust takes time to develop. I think it's critical to take a long view and look at each opportunity to connect with a client or prospective client as an opportunity to add value, build credibility and ultimately develop trust.
…have empathy…I think to be a great agent, you need to be able to step into your client's shoes, and see things from their perspective. It's not so much about who you think the best speakers are. It's about understanding the needs of your clients and recommending the best speakers for them.
…are curators of ideas…it's a rapidly changing world and while you can't know everything, the best agents know about the things that will interest their clients. After all, it's possible that one minute you're helping someone find the right speaker on artificial intelligence; the next arranging the perfect sports figure to inspire an audience; and the next offering recommendations for an after-dinner comic. The sheer breadth of expertise it takes to do this is pretty remarkable, yet the best agents make it look effortless. It's not. It's a huge challenge to keep current on talent out there to serve your clients.
…know what they need to know…one bureau owner told me it's not about being the smartest person in the room. It's about knowing enough to make the right recommendations. You don't have to be the expert – the speakers do that. Don't get wrapped around the axel.
…are great communicators and creative in the way the offer recommendations and package the financial aspects of any deal.
…are driven. They set their own goals (usually surpassing those that the company sets for them). With how challenging the job can be at times, it's the inner drive to succeed, the determination to make this year better than last year, and the commitment to building strong relationships that differentiate people who are at the top of this profession.
Is the lecture industry for you?
If you've read all this and think it might be a career you'd enjoy, talk with someone you know in the business – or check out the website for the industry association, the International Association of Speakers Bureaus – www.iasbweb.org. I can tell you it is among the most fascinating and rewarding of career choices.

The Stress-Free Event Photo Opp
A photo with your celebrity entertainer or big name speaker is a lasting treasure for your event guests.
Of course, like much of everything else in the live events business, there's only one chance to get it right.
Earlier in my career, I was on the road with many high-stakes principals. I would run as many as five event photo opps a week for anywhere from 20 to 200 people. Feedback from the event planners on site was always so positive - they appreciated the process I used which made the whole experience much more manageable for everyone concerned.
It's in that spirit that I thought I would share the details of this photo opportunity plan, which incorporates the best aspects I've seen used by the high-stakes figures whose staffs had honed this to a fine art. I hope this event planner advice is a useful addition to your event planning checklist.
Tips for Running a Seamless VIP Photo Opp
Plan for an appropriate amount of time and contract accordingly with the Principal. On average, plan for approximately 3-4 photos per minute*. The last thing you, and the Principal, want is for there to be guests left in line when it is time for the Principal to depart.

(*Please note: It is possible to move guests through the line more quickly, allowing you to get through a larger number of guests in the allotted time. Bear in mind that this may require additional staff/volunteers to assist and leaves little time for your guests to interact with the Principal.)
1. Select a photographer
Make note of any restrictions the Principal may have (i.e. no flash), to make sure your photographer comes with the right equipment.





Ask your photographer to bring a backup camera to ensure there will be no problems should he/she encounter an equipment failure.
2. Designate an appropriate space at your venue
3. Choose a backdrop
Does your venue have a backdrop that will work well or will you have to bring one in?





When considering solid color backdrops, choose a neutral color – navy blue and grey are excellent choices.
If you are using flags, make sure they are displayed in the correct location. The flag should always be placed to the Principal's right when facing the photographer or to the left of the Principal from the photographer's perspective. Any other flag should be placed to the Principal's left when facing the photographer or to the right of the Principal from the photographer's perspective. For more information about flag etiquette, a good resource is: http://www.military.com/flag-day/us-flag-code.html.
Before the Photo Opportunity begins, ask your photographer to take some test photos so you can make sure that the backdrop, lighting, and angle of the photo (waist up is best) is complimentary to both the Principal and your guests.
4. Arrange for enough staff members/volunteers (six is a great start) to run the Photo Opportunity efficiently. Please reference our diagram for staffing suggestions.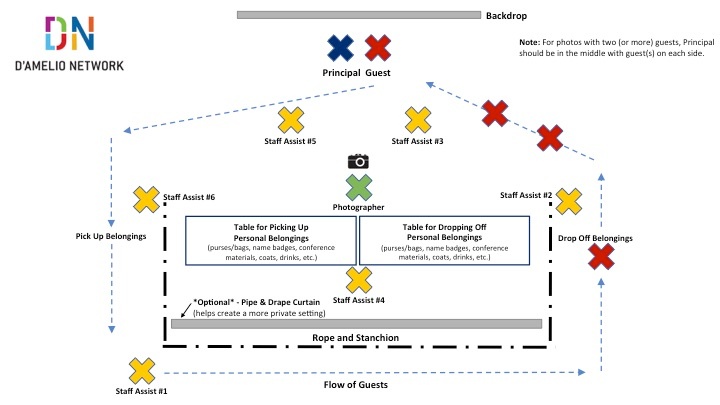 Staff Assist #1 – Greets guests and helps get them lined up. If you need to collect information from your guests so that you can get their photo to them after the event, this is great opportunity to distribute notecards. Information to include on notecards: Name, phone number, email address and section for notes about attire (i.e. red dress, glasses and blue bow tie, etc.)


Staff Assist #2 – Located towards the front of the line, this staff member can collect notecards if you are using them, ask guests to place their personal belongings* (name badges, purses, coats, conference materials, drinks, etc.) on the adjacent table, and helps with the flow of guests to Staff Assist #3.



(*Please note: By guests leaving their personal belongings on the tables prior to their photo, this makes for a clean photo without a lot of extra stuff, and also helps decrease the number of guests pulling out their cell phones for "selfies.")
Staff Assist #3 – Gently "pushes" guests into the photo when the Principal is ready. If there will be more than one guest in the photo, this staff member will advise of any special instructions (i.e. for two guests in a photo, one guest will stand to the Principal's right and one guest will stand to the Principal's left).


Staff Assist #4 – Helps move personal belongings from the "drop off" table to the "pick up" table so they are waiting for the guests after their photo.


Staff Assist #5 – Gently "pulls" guests away from the Principal.


Staff Assist #6 – Directs and reminds guests to pick up their belongings.


For Photo Opportunities with VVIPs, it is a good idea to arrange for additional staff/volunteers (2-4 people) to assist where needed (i.e. helping Staff Assist #4 with moving personal belongings, etc.)

In this tale, in spite of the best efforts to prepare, things can go horribly, horribly wrong and embarrass everyone in the organization, let alone make the audience very uncomfortable.
This story took place during my agenting days and stars a very prominent U.S. Senator who, upon retiring, started to speak. I actually booked him for one of his very first appearances - to be keynote speaker for a conference in San Francisco.
Prior to the event, the event planner provided lots of great background on the audience, the meeting, and the company – all designed to brief the Senator on what to expect. I then arranged a pre-event call with the Senator and senior people in the organization to discuss the objectives for the speech.
Sometime after the call, the Senator came ambling into the office and said something akin to, "What's with these people? They need to relax. You need to tell them I've done this a few times before," he chuckled.
The big day arrived and I called the event planner around the time the Senator was to finish, just to see how things went. I asked, "So how did he do; were your people happy?"
I remember an uneasy silence at the end of the phone – after which she said, "It was a disaster!" Shocked by her reply, I asked, "What on earth happened?" She said, "He walked out on stage and said 'It's great to be with the folks from Microsoft today'"
I was stunned – he wasn't speaking to Microsoft – he was speaking to PeopleSoft.
It doesn't just happen with keynote speakers; it happens to veteran entertainers as well, like this concert by Bruce Springsteen in Cleveland
She said he then made the improper reference 2-3 more times before he caught himself; but by then it was too late, the damage was already done.
I was mortified; so much for the good Senator's assurances. That overconfidence about the role of preparation reminded me of the first rule of doing just about anything: The Five Ps – Preparation Prevents Piss-Poor Performance (the G-rated version of that is the Four Ps!).
I asked what we could do to make amends. She said she would get back to me. When she did, she told me senior execs wanted a substantial discount. Unfortunately, the Senator wasn't going to have any of that – so I didn't even bother asking but I did return the full commission – and then some.
My event planner was appeased while the Senator went blissfully on. And if you guessed that I never recommended that Senator to speak again, you would be absolutely right.
What's the takeaway for those of us in the events industry? Maybe it's to not take anything for granted. It doesn't hurt to offer one last reminder to the speaker once they are in the room before walking on stage – about how long they're speaking, that there is/isn't Q&A, and yes, who's in the audience . . . not that I'm paranoid or anything. Some lessons you just never forget.

First Came Tips from Top Speakers
Recently, I posted blogs with advice from top speakers on how to assure success when you book speakers for your program. After all, who better to offer solid tips than the people who actually take the stage and hope to engage the audience? Here are links:
These blogs got some really nice attention from people in the event planning world. It seemed like a natural extension of this effort to ask top event planners for their advice on booking speakers.
Event Pros Get Their Chance to Offer Advice
I thought it might be valuable and fun for some of the veteran event professionals I know to weigh in with their opinion and advice, too. Their comments and tips are in the new eBook called "Tips for Booking the Right Event Speakers." My great thanks to the many event professionals who contributed to this effort.
The advice these pros offered up is pertinent whether you're booking top business speakers, the biggest political names, motivational speakers, speakers from academia -- the whole range of the speaking world.
Look What Event Pros Weighed In On
I submitted a number of questions to top event pros from the corporate and association world. Here is what I asked them to respond to – by either completing the sentence or answering the question:
I'll never book a speaker unless I . . .
When it comes to booking speakers, what will you never do again?
When I book a speaker, I always make sure that . . .
Once a speaker gets on site, I always . . .
What is the most effective way to promote a speaker's appearance at an event?
I get the most out of the speakers I hire by . . .
I've found that success with speakers begins with/by . . .
The best way to keep the audience from bolting on the last day of the event is . . .
I like to sustain and drive home the speaker's message after the event by . . .
Did We Miss Covering a Topic?
If we missed polling our event pros on something that interests you, please let me know. Just send an email (info@damelionetwork.com). We will work to add extra insights on the things that interest you most.