Geoff Colvin: "Hard work and natural talent are not the source of great performance."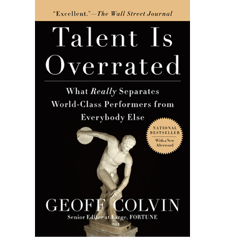 What if everything you know about raw talent, hard work, and great performance is wrong? Scientific research on great performance shows that what most of us believe is off-base – which means most of us will never perform as well as we could.
In Talent Is Overrated by Geoff Colvin, the author states that -- contrary to popular belief -- people aren't just born with talent. Moreover, hard work doesn't necessarily lead to better performance either. Instead, deliberate practice and intrinsic motivation are the key to bettering your performance.
Geoff Colvin explains the findings and relates them to real life in real organizations. He shows how most organizations value the wrong things – that passion, honesty, and learning are more valuable than hours, IQ, or "native ability." Geoff demonstrates that world-class performance comes from behaviors that every person and organization can adopt. Those who apply these principles gain a tremendous competitive advantage.
Great performance is within the grasp of everyone.
When you download the first chapter of Geoff Colvin's book, you'll read:
About why the science of great performance is becoming more valuable.
Why understanding where great performance comes from is crucial in today's world.
Why intelligence and great performance are actually not positively correlated.
About the 10,000 hours; deliberate practice is hard. It hurts. But it works.
Fill out the form on this page to gain instant access to the first chapter of the inspiring and motivational book Talent Is Overrated by Geoff Colvin. Discover the secrets of great performance and apply them for yourself.